Troubled Aaron's Appoints New CEO Again
ATLANTA – Furniture leaser Aaron's, Inc. (NYSE:AAN) announced Monday that John W. Robinson III has been appointed chief executive officer, effective immediately. Robinson will also be a member of the franchisor's board of directors.
The chain of 2,100 company-operated and franchised stores in 48 states and Canada has gone through a spate of CEOs. Robert C. Loudermilk, the son of the founder, resigned in November of 2011. He was replaced by Delta Air Lines executive Ron Allen in 2012. Allen left in August of this year, replaced by Gil Danielson, who served as Aaron's recent interim chief executive officer. He'll remain the Aaron's chief financial officer.
The movement comes amidst accusations of colossal abuses and missteps by the brand. Aaron's settled with the Federal Trade Commission last year for spying on the private lives of its customers through remotely activated cameras of the very computers it rents to them. Some sitting in bedrooms. Aaron's also was handed a $95 million verdict in Saint Louis against them for sexual harassment. And then the troubled company was targeted by a $2.3 hostile takeover attempt in March of this year. During all of this, Aaron's announced it bought Progressive Finance Holdings, a merchandise lease-to-own chain in April, for $700 million in cash. If that weren't enough, the brand in October also agreed to pay California $28.4 million over overcharging customers, omitting contract disclosures and webcam spyware used against its customers.
The firm announced at the end of October that profits are way down, with net earnings down 56 percent in the third quarter of 2014 compared to last year's $21.1 million. That's in addition to 2013, in which the company's annual net profit fell 30 percent to $121 million, while its revenue floundered, growing only one percent.
Banned from franchising in Minnesota
It faces franchising problems as well. Last month, Mike Rothman, commissioner for Minnesota's Department of Commerce, declared that Aaron's has been deregistered from lawfully selling franchises in the state. "The franchisor has failed to file an annual report and fee by April 30, 2014," wrote the commissioner (pdf). "Therefore, it is ordered that the registration dated September 2, 1993, is canceled as of October 7, 2014."
One Minnesota attorney explained that this may not be a big deal for Aaron's since the bigger issue is that Minnesota does not allow rent-to-own businesses, such as Aaron's or ColorTyme, in which a bed is rented to a customer at high interest rates with the intent that the customer will own it at some point. Indeed, Aaron's 2013 disclosure document that is successfully registered with the state shows that there are no Aaron's franchises in Minnesota. With no stores and no prospect of selling rent-to-own products, Aaron's may have used franchise registration as a way to push the legal environment to open up rent-to-own shops there, albeit an unsuccessful attempt, speculates the franchise attorney.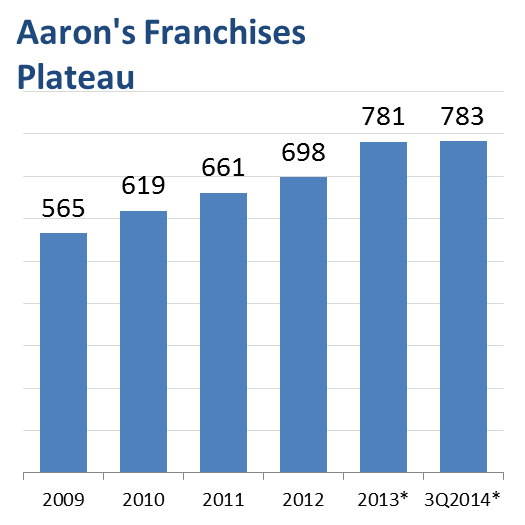 Owners of the chain's franchised Aaron's Sales & Lease stores began to ask tough questions of the brand's recent turmoil earlier this year. Some of Aaron's franchise owners are quite large for the chain. They should have considerable clout in influencing the direction and what they individually want and need from the franchisor. For example, its largest franchisee Charles Smithgal III owns 105 of Aaron's now 783 franchised stores.
Aaron's Franchisee Association, an independent trade group that represents the interests of Aaron's franchise owners, met in March to discuss how franchisees felt that now former-CEO Ron Allen was taking the brand. Some disgruntled franchisees felt that Allen was leading the brand in a strategically flawed direction that emphasized middle-income customers over the brand's historical core customer, low-income. However, franchisee association leader Duffy Heath, stressed at the meeting that it may not be a problem with Aaron's leadership but rather the sagging rent-to-own segment. "Franchisees and Aaron's corporate are asking whether the market and the economy in general have changed, necessitating changes to our business model. We are on the front end of this process — asking questions and beginning the search for answers," said Aaron's Franchisee Association president Duffy Heath to the Atlanta Journal-Constitution back in March.
Heath does have a point. It is not just Aaron's that has soft sales in the rent-to-own segment. Despite its legal troubles and doubts by franchisees about the competency of brand officers, Aaron's franchise owners are actually losing less (see chart) in same-store sales of their franchised outlets than competitor Rent-a-Center's stores, which are nearly 95% company-owned.
That news may be of little comfort to Aaron's franchise owners.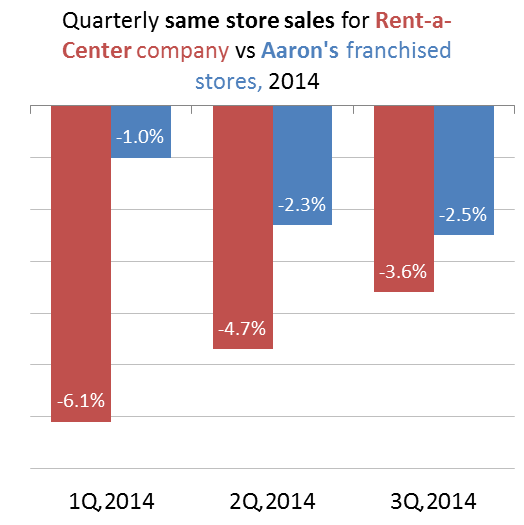 Comes the investment banker
With Allen now gone, enter new CEO Robinson.
Robinson is the former president of Utah-based Progressive Finance Holdings. He has also been the president and chief operating officer of TMX Finance LLC (dba TitleMax), a large auto title lender. He joined TitleMax as chief operating officer in 2004 and was appointed president in 2008. From 2004 until his departure in December 2011, Robinson helped grow franchisor TitleMax and its car title loan stores from approximately 100 to more than 750 stores. Robinson has the background that career chief financial officers and investment bankers would like. He has worked in the investment banking groups at Morgan Stanley, Lehman Brothers, and Wheat First Butcher Singer. Robinson holds a Bachelor of Arts degree from Washington & Lee University, cum laude, and an MBA from the Tuck School of Business at Dartmouth College where he was a Tuck Scholar. Additionally, Robinson earned his Chartered Financial Analyst designation.
In regard to the new CEO, Ray Robinson, chairman of Aaron's Board of Directors, said: "The board and management team worked closely with John throughout the past year, before, during and after the acquisition of Progressive." Although the firm used executive search firm Stuart Spencer to seek out a CEO, it already knew Robinson through its acquisition of Progressive. "His experience in the RTO [rent-to-own] industry and his vision for positioning Aaron's for continued success will help drive the company forward as we leverage our broad retail footprint, our leadership in virtual RTO and our strong franchisee relationships."
---
Related reading:
Content topic:

Enter Your Own Tag:
About Don Sniegowski
Public Profile

Don Sniegowski is editor of Blue MauMau, the daily news journal for franchise & small business owners. Call him at +1 (270) 321-1268, tweet @bluemaumau or email don@bluemaumau.org.