Labor Protests for $15/Hour Pay Off for LA and NY Workers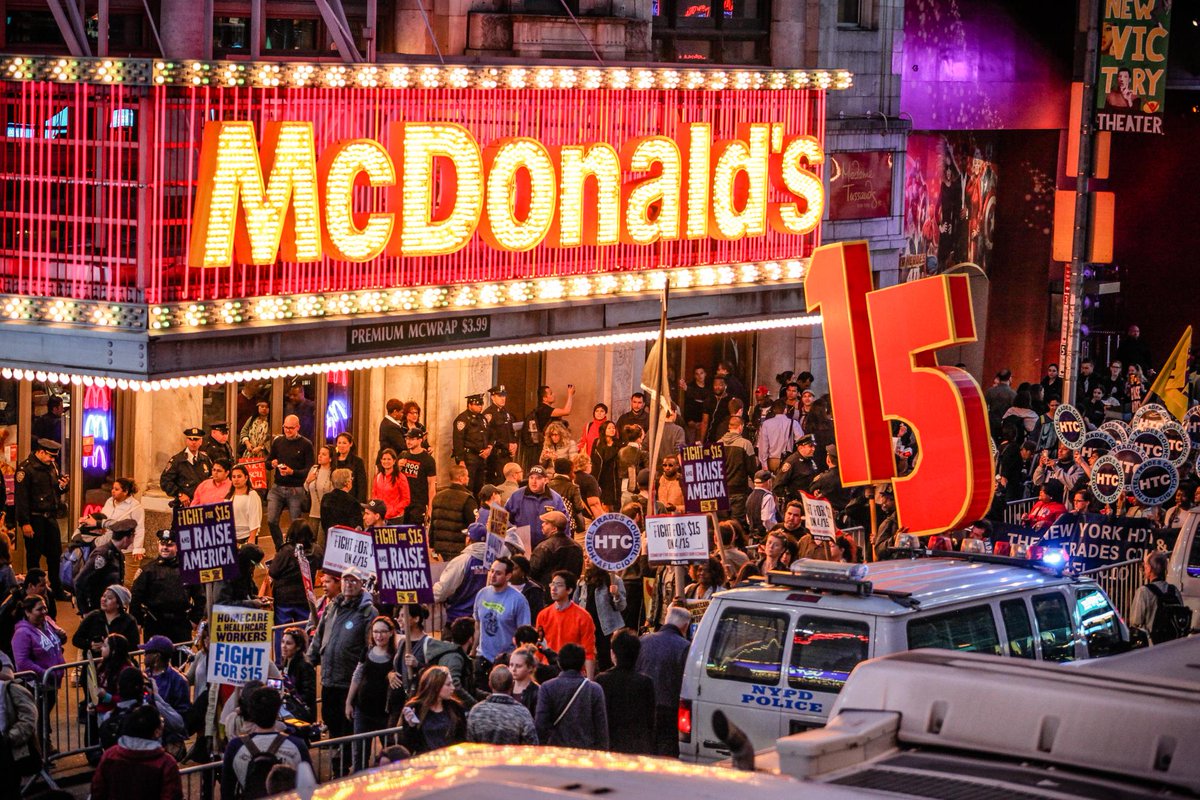 BREAKING: New York Governor Andrew Cuomo addressed a boisterous rally today following the Wage Board's historic recommendation to raise pay to $15 for the state's 200,000 fast-food workers. On the board's recommendations, the governor announced, "This is going to help hundreds of thousands of New Yorkers, but this is going to do something else. Because when New York acts, the rest of the states follow."
Cuomo then stated, "This statement today is going to radiate all across the country . . . If it's right in New York, it's right in California, it's right in Michigan and it's right in Florida. If the Wage Board's recommendations are approved, New York City fast-food workers would be the first fast-food workers in the country to win $15 statewide."
Governor Cuomo concluded: "It is just the beginning…we will not stop until we reach true economic justice and we raise the minimum wage for every worker in every job in this state. Because the New York way is we believe the greatest success…and the greatest feast has the most number of people at the table. That's what we're doing today. That's the crusade we're on. We'll make it a reality in New York and they'll hear us all across this nation."
--------
NEW YORK - Organized labor leading the charge on fast-food and other low-paid worker protests across the country for the past three years has now paid off in LA County, California and New York City in raising the minimum wage to $15 an hour.
Yesterday the Los Angeles County Board of Supervisors voted for the increase, although it now faces a bigger challenge in convincing other local governments to join in. The Los Angeles Times reported that the "widely anticipated move by the nation's largest local government applies to unincorporated areas and hundreds of thousands of employees, mirroring a similar action by the city of Los Angeles." The news report predicts, "Within a few years, more than half of the countywide workforce will be guaranteed a base income more than 60% higher than the current state-mandated $9 an hour.
Roberto Balanzar, a Burger King employee from Los Angeles County and a member of the Fight for $15 expressed that he was elated with the latest development. "We won $15 for tens of thousands of workers in America's largest county because workers joined together and spoke out for a better future. This raise wouldn't have happened without the county's brave underpaid workers standing up, going on strike and demanding $15 an hour," he declared. He is currently making $9 an hour.
Balanzar said he is going to a community college and lives with his mother in order to make a better life for himself. "But on $9 an hour, it's a constant struggle just to stay afloat, let alone get ahead." The fast food worker says he's excited about what's in store for tomorrow.
While some cities like Santa Monica and West Hollywood are considering the wage increase, others are not. Some are still recovering from the recession and cannot afford the raise. According to the LA Times, "Some economists, business owners and public officials warn that a patchwork of local pay policies could set off economically disruptive competition for workers and job-producing employers."
Chris Tilly, director of the UCLA Institute for Research on Labor and Employment, said LA County's move puts "both economic and political pressure" on smaller cities in Los Angeles County. Those areas will now attract the most talented of the low end of the work force away from lower wage areas. Some manufacturing operations could move to areas with cheaper labor costs, but restaurant and retail businesses that choose sites based on customer demand aren't likely to relocate.
Under the county's plan, approved with two Republican board members opposed, all workers would reach at least a $15 an hour wage by 2021.
Burger King worker Balanzar is optimistic, even though there is plenty of opposition. He said, " . . . today, I'm excited about what's in store for tomorrow. I'm excited about what this means for my future, and I'm excited about our Fight for $15 that's making history. We didn't stop in our city, we didn't stop in our county, and we aren't stopping now. We've sparked a global movement that has made $15 the new baseline for service jobs in all kinds of industries all over the United States."
New York Moves Forward on $15 increase
Today fast-food workers from the Bronx to Buffalo cheered the recommendation of New York Governor Andrew Cuomo's Wage Board to raise pay to $15 an hour for the state's 200,000 fast-food workers. Wages would first be raised in New York City, then the rest of the state.
When the board's three members announced their $15 decision to a packed hearing in lower Manhattan, workers erupted in cheers, chanting, "We work, we sweat, put $15 in our check." They spilled out into the streets, kicking off a boisterous rally applauding the governor for convening the Wage Board and calling on him to accept its $15 recommendation.
If approved, New York City fast-food workers would be paid $15 by 2018, matching the timeline set in San Francisco, and workers outside New York City would be paid $15 by 2021, making them the first fast-food workers in the country to win $15 statewide.
"For the first time in a really long time, I have hope for tomorrow," said Flavia Cabral, a 53-year-old McDonald's worker from the Bronx. "Tomorrow for me has always meant more bills. More stress. More night shifts. And more struggling. Now, with $15, it means something better. I can actually buy groceries and be there for my kids and grandkids."
Cabral said the $15 recommendation shows that the Wage Board heard workers voices, saying, "When workers stand up and speak out, we win life-changing victories. We thank Governor Cuomo for giving us this historic opportunity to make our voices matter and urge him to accept the board's $15 recommendation."
The decision by the Wage Board to recommend $15 comes two-and-a-half years after workers at McDonald's, Burger King and Wendy's walked off their jobs in New York City, sparking a movement for $15 and union rights that has spread to all corners of the state, around the country and across the underpaid service economy. At the time of the strike, fast-food workers made the state's minimum wage of $7.25, or just above it, and most observers gave them no shot at winning $15. But 10 strikes later, cities, states, elected leaders and corporations across the country are racing to raise pay, and workers in New York—where the Fight for $15 started—have had their voices heard.
The board's recommendation follows weeks of public hearings at which workers testified of being paid so little that they are frequently forced to rely on public assistance to feed their families, of squeezing into crowded apartments — often with strangers, and of being unable to buy clothing or school supplies for their children, or to take them to the movies. Experts spoke about how low pay in the state's thriving fast-food industry drags down the local economy and costs taxpayers $700 million a year.
"We need $15 not just in New York, but in Tampa and Tempe too," said Bleu Rainer, who has worked in fast food for eight years, but makes only $8.05 an hour at a Tampa, Florida McDonald's and has to rely on food stamps to eat. "And we're going to get it just like the workers in New York got their $15—by joining together and speaking out."
Protests on Thursday will take place at McDonald's in Tampa and dozens of other cities from coast to coast. They come as the Fight for $15 is racking up victories across the country, including $15 minimum wages in Seattle, SeaTac, San Francisco and Los Angeles, as well as $15 for home care workers in Massachusetts. Last week Kansas City officials approved a $13 minimum wage and yesterday the Los Angeles County Board of Supervisors approved $15 for the nation's largest county, matching the $15 approved in the city of Los Angeles earlier this year.
Today there was other related activity. Democratic presidential candidate Senator Bernie Sanders and members of the Congressional Progressive Caucus introduced a bill to raise the federal minimum wage to $15 an hour. The University of California, the third largest employer in California, also announced it will raise base pay for all direct and contract workers to $15 an hour by 2017.
"Our movement is unstoppable," said LeTonya Wilson, 41, who works at McDonald's in Richmond, Virginia and is paid $8.25 an hour. "Fifteen dollars is sweeping the country and we're going to build off of this victory in New York to win $15 in Richmond and all across the country. Everyone said we had no chance, but we've shown when we stick together, we get results that let us afford the basics like food and rent and lift up our families and communities."
Fast food workers are not the only ones supporting the $15 an hour cause. Lizabeth Bollina, a Las Vegas home care worker who is paid $10 an hour, said, "Fast-food workers started this movement for $15 and home care workers are proud to carry the banner, too. We know that when workers stick together, we can win life-changing victories."
Venetta Strickland, a child care teacher in Raleigh, North Carolina, paid $11.25 an hour, agrees. "The Fight for $15 is about building a strong future for ourselves. We're winning in New York because we are standing together. Child care workers and all underpaid workers need $15 so we can afford things like rent and electricity and get the respect we deserve on the job."
Content topic:

Enter Your Own Tag:
About Janet Sparks
Public Profile

Janet Sparks is the former publisher of the Continental Franchise Review, an industry newsletter that covered the franchise community for over 30 years. She has also been a columnist for a leading franchise magazine for the past 13 years. Today she is an independent journalist who engages in investigative reporting, tackling complex issues that impact the franchise industry.
Janet can be reached at jsparks@bluemaumau.org or at 303-799-7398.