Twisted Video Game of Running McDonald's Franchise
Developers Release Business Management Games That Skewer Franchisors and Corporations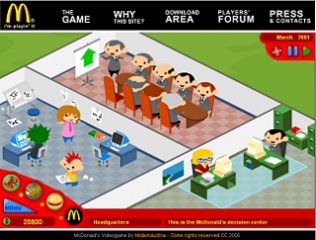 CYBERSPACE - In the past few years, advertisements have morphed into online games. But now, in almost an answer to those ad games, a new genre of games, known as "anti-advergames" skewer policies of large chains.
And franchisors are hardly exempt from this gaming trend.
For example, the McDonald's Video Game, is a game that parodies managing a McDonald's franchise. The game is set up so that you cannot win without compromising.
Italian design shop Molleindustria says, "Behind every sandwich, there is a complex process you must learn to manage. From the creation of pastures to the slaughter, from the restaurant management to the branding. You'll discover all the dirty little secrets that made (McDonald's) one of the biggest companies (in) the world." (CNet)
If you want an idea of how to run a print franchise, Persuasive's "Disaffected!," puts players in the role of managing a FedEx Kinko's (although all Kinko's are now corporate company units).
"Disaffected!" gives players the chance to step into the shoes of "demotivated" FedEx Kinkos employees, a blurb about the game on Persuasive Game's Web site said. "Feel the indifference of these purple-shirted malcontents firsthand, and consider the possible reasons behind their malaise--is it mere incompetence? Managerial affliction? Unseen but serious labor issues?"
You know, just like real-life in managing a quick-print franchise.
--
Related readings:
About Craig Hsueh
Public Profile

After years of corporate life, I bit the bullet and bought a franchise, where I now happily live by hand to mouth week by week as my own boss and president of the company. Love it.
Area of Interest
Buying a Franchise